First day in Miami, this is from south beach. Even though it might look like the weather in Denmark,
I can inform you that I am wearing shorts and T-shirt a nd the temperature is around 25 celsius.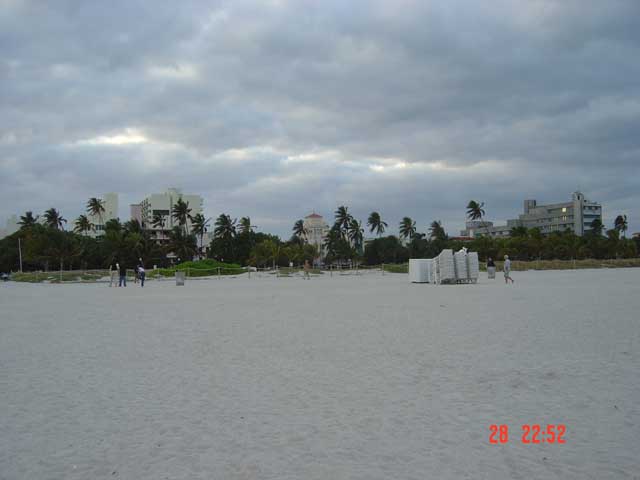 Some random place down town South Beach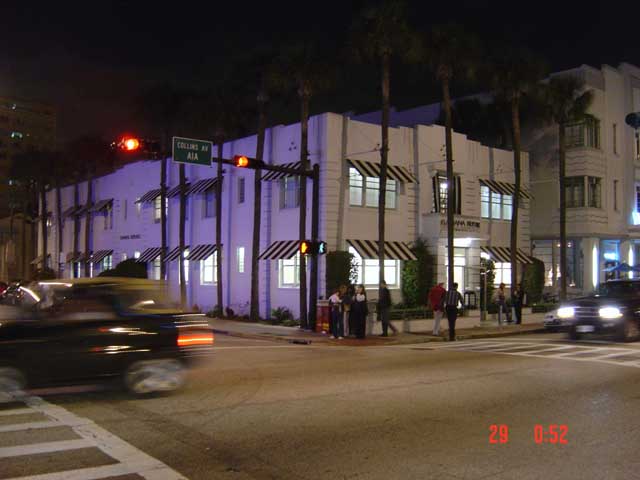 First morning in Miami, we were on our way out to find ourselves a van.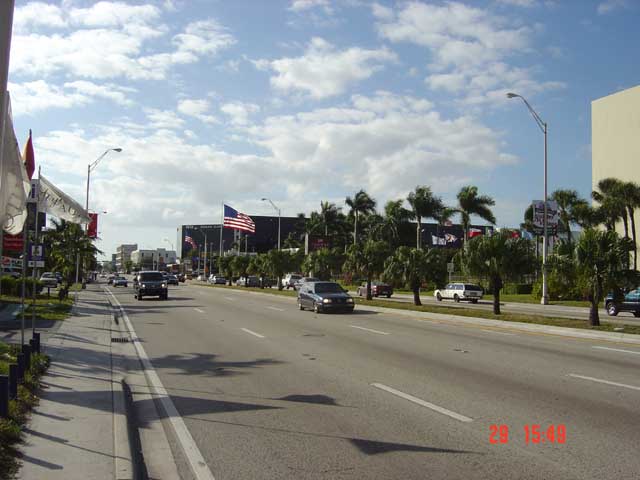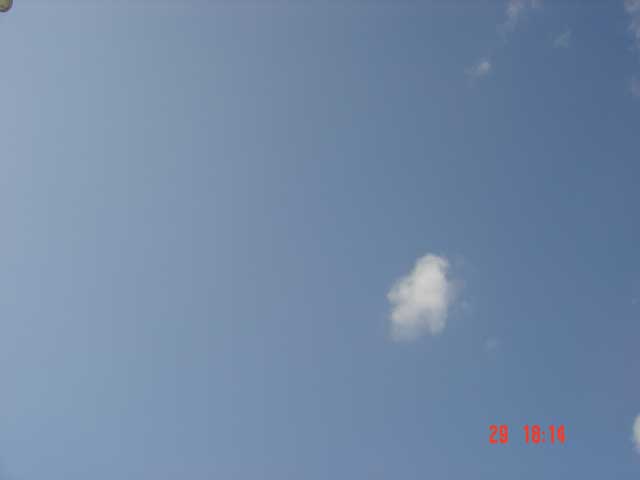 Already after as little as one day in Miami I manage to almost get myself a sun burn.
Crappy pictures, but look at my shoulders and you can see my tan lines 8).
Crappy picture of the first Hummer I saw... found out they were alot more common here than in LA where I was in the spring of 2003.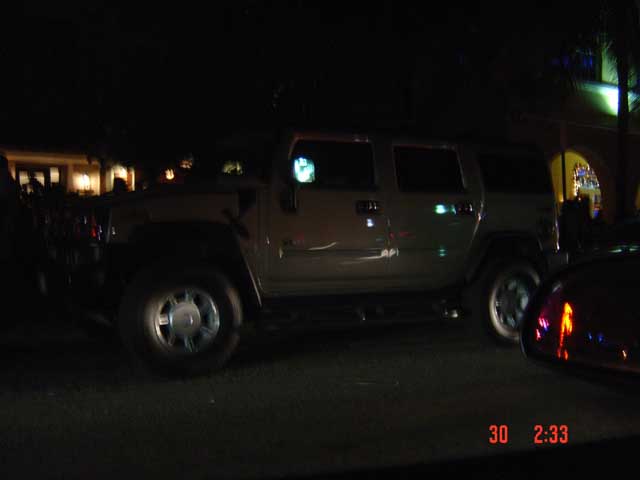 Christmas lights on the palm trees... looks kinda akward in the eyes of a guy who is used to see the same lights on deep frozen pine trees and the like.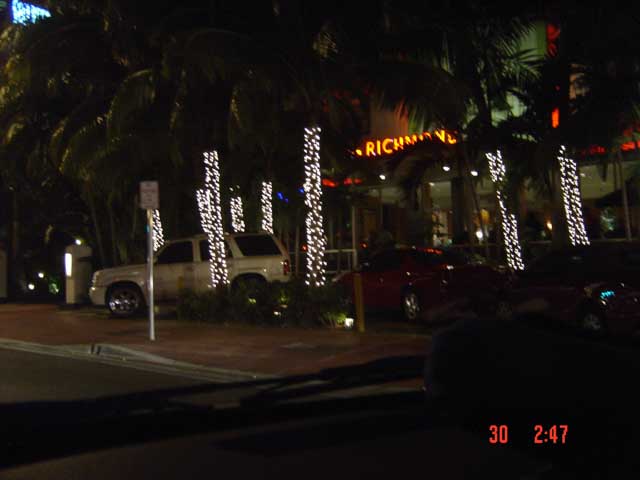 The classical Miami colors neon pink and neon blue plus some more christmas lights.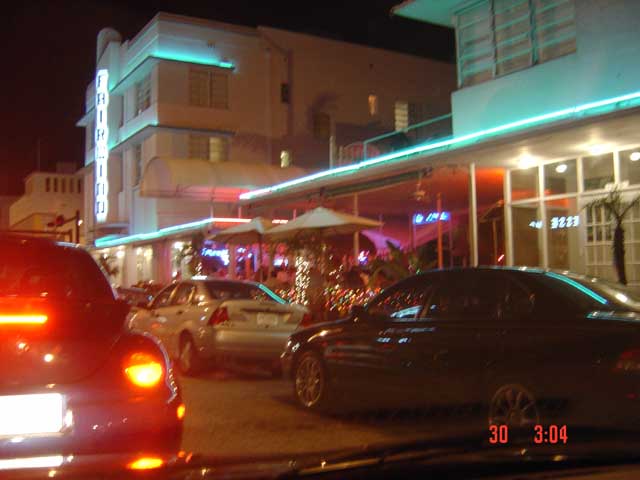 Most buildings in Miami seem to have some sort of lighting on them, I kinda like these subtle blue ones.
The classical American Diner... plus a heavily ornamented Christmas tree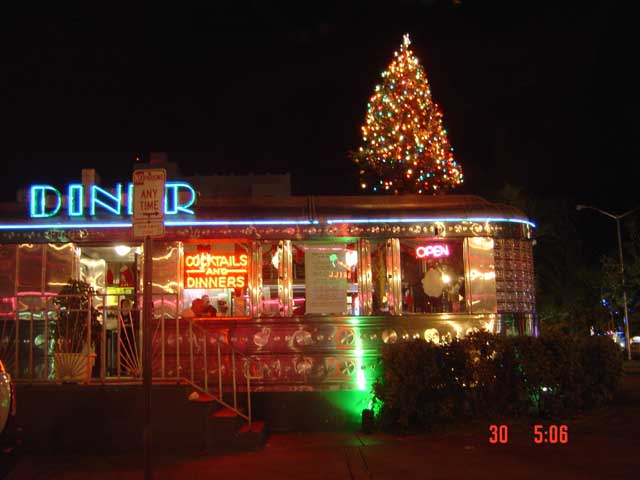 IA really nice red neck kinda diner we ate at on the way to Key West.
A very well lid garden down at Key West... the pictures doesn't really do it justice.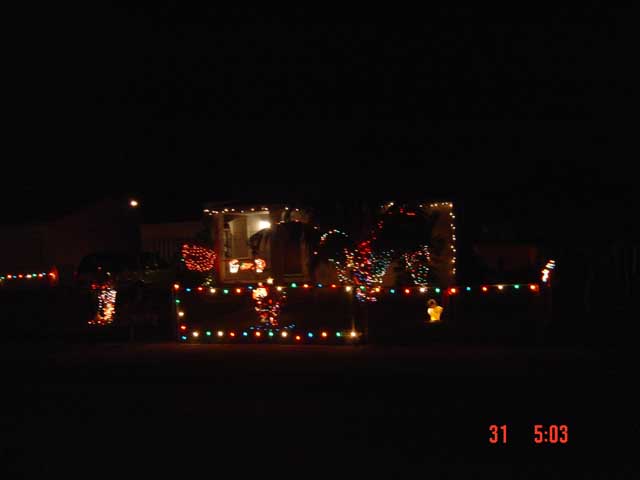 More palm trees with Christmas lights on them....
A huge caktus on the way to Key West.
The view from my hotel room at Key Largo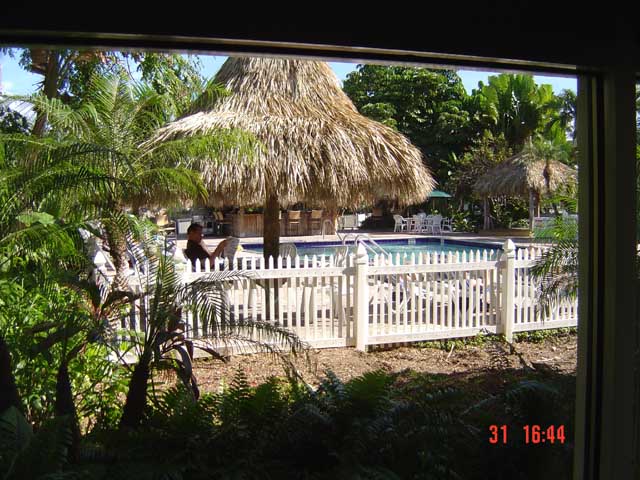 A small harbour behind the hotel at Key Largo
Pancakes the size of a plate, and that's a diner plate...
Was a great breakfast except for the Rye bread I got which had "kommen" in it ( not sure what the English word for that is might be Rye though, hehe)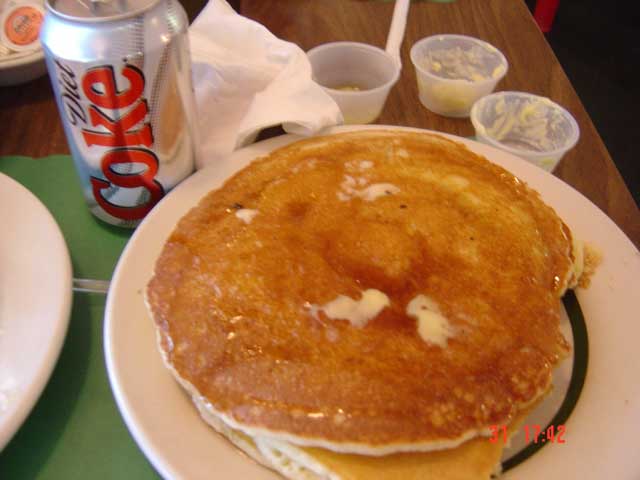 A weird picture of me at the beach somewhere.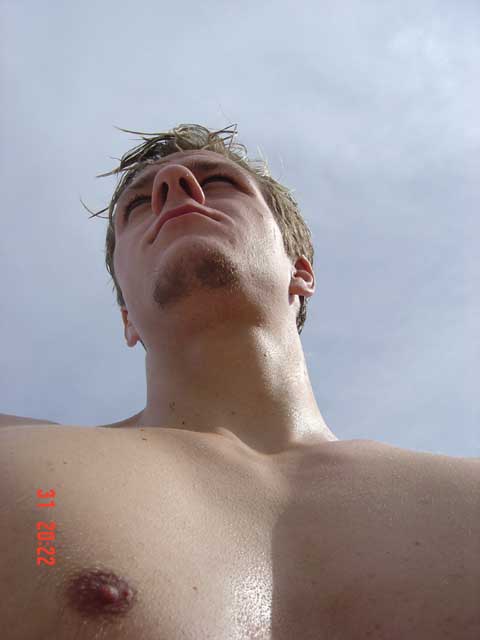 Palm trees at North beach on Key Biscayne.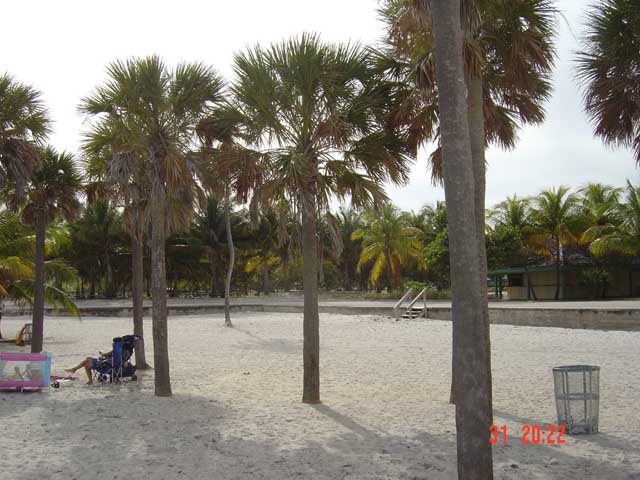 A A really cool house down town South Beach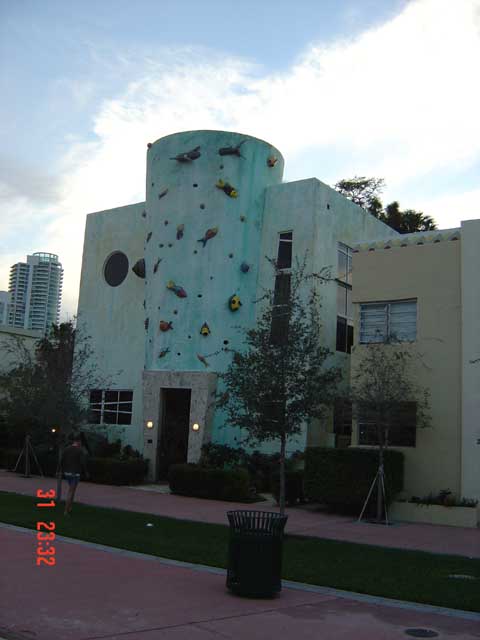 Same really cool house down town South Beach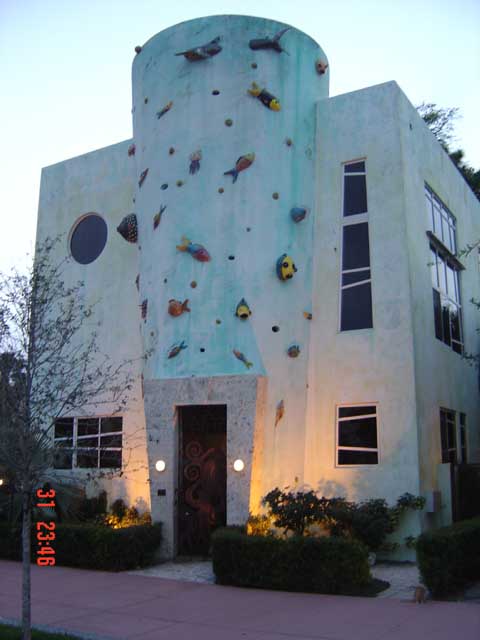 A little bit fuzzy picture of a cool house I am sure I have seen in a miami vice episode... Down town south beach.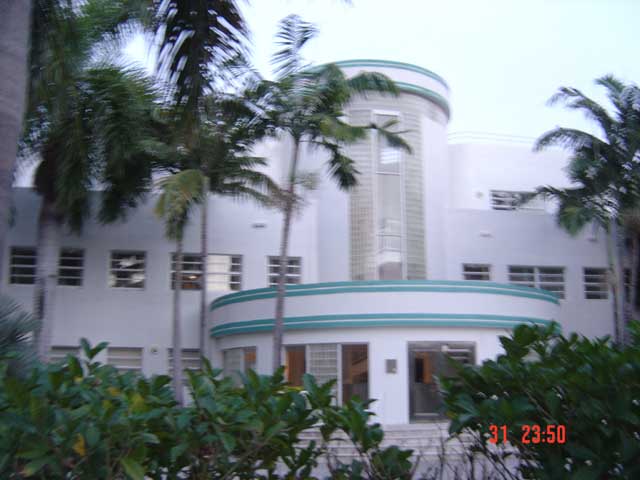 The sunset new years eve at south beach.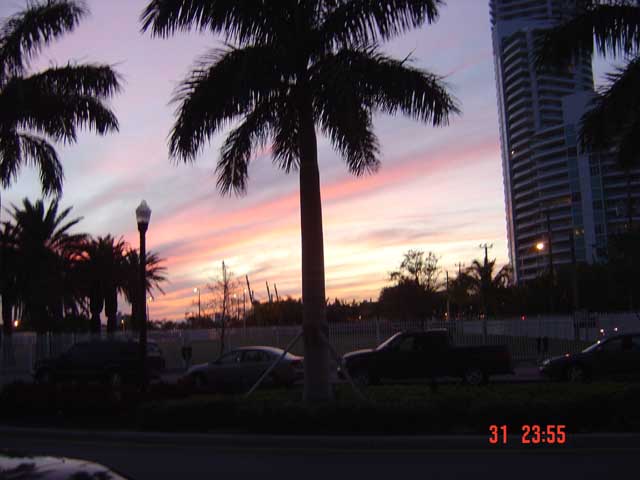 The van!!! My car for the next 3 months or so. It has like a 4 liter engine if not more, this thing really moves.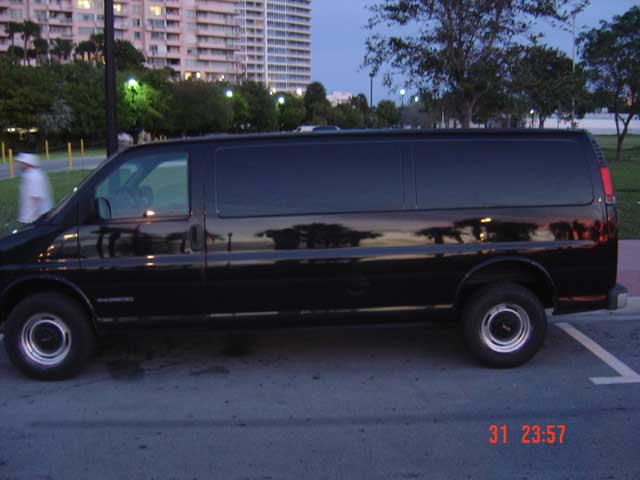 More sunsent... this time from the bridge between south beach and Miami ( MacArthur cause way)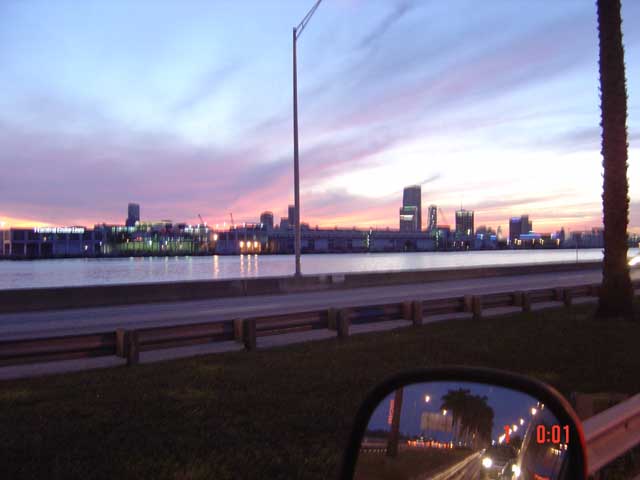 South beach dressed up ready for some partying on new years eve 2003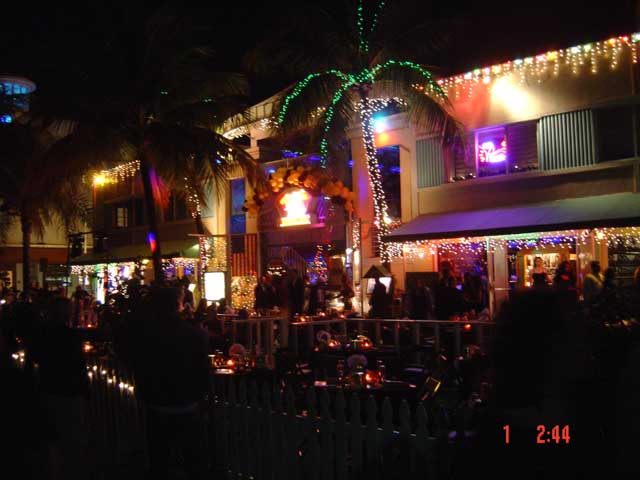 A guy with a white python who would let you hold it while he takes your picture... kinda nasty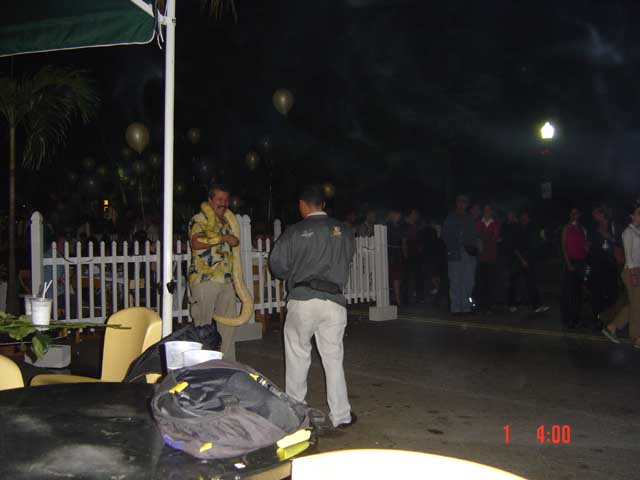 Random people caught on camera at new years eve at south beach.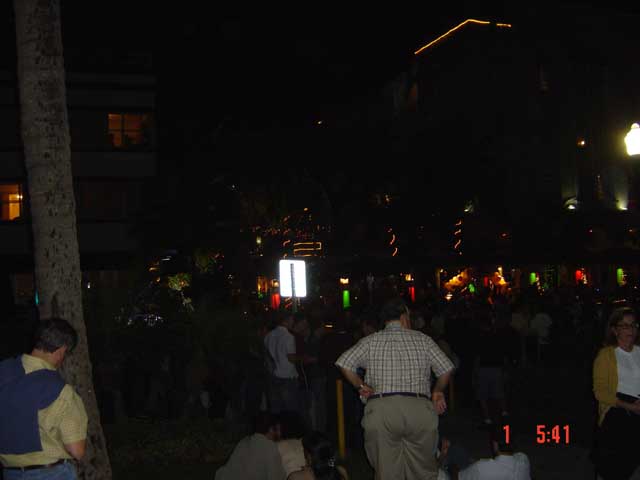 Same as above...
Inside a bar called Teasers on south beach... this place has some seriously nice ladies serving you drinks...
and when are not serving drinks they are out dancing on the dance floor showing off their divine bodies.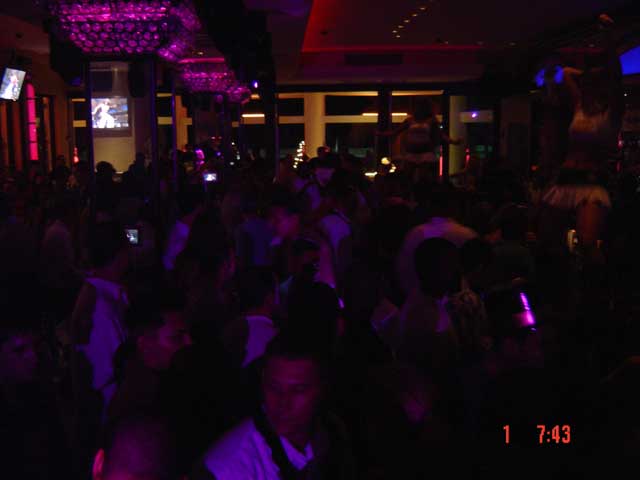 Peter, Rose and I at the Teaser bar... some crappy guy took the picture, and sucked at it.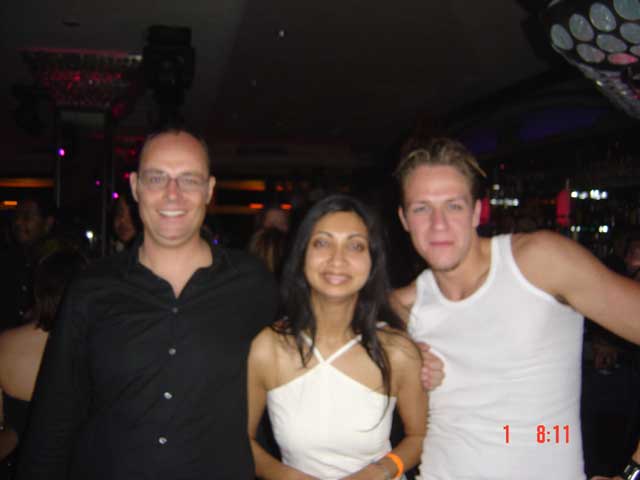 Me after getting home new years eve...
Some strange green birds... hard to see but they are near the tree...
I shoulda gotten a picture of the whole car... cuz you don't really get the propotions of the rims on this picture...
but trust me, they were huge.... 22" even....
A nice day at the beach... not so crowded since it's cold and in the middle of winter here....
I mean yeesh it's only like 25 degrees who wouldnt be cold....
The water is actually warmer than I can recall it even being in Denmark.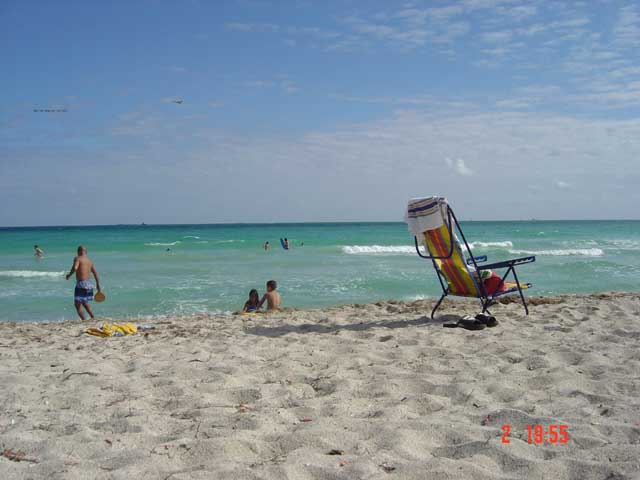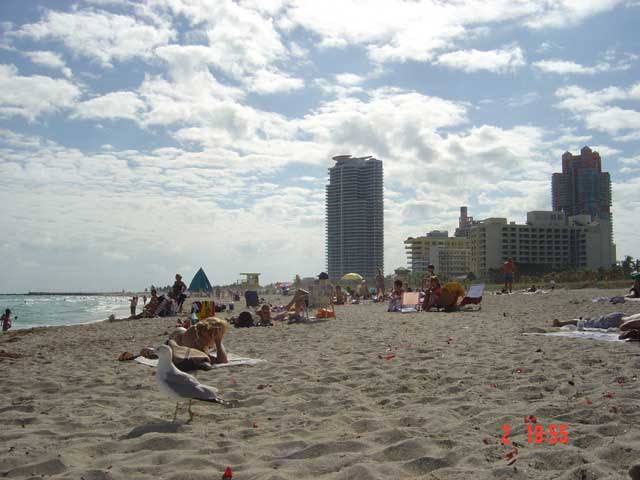 Beach hair... I am really close to cutting it all off...
Some random picture of me before going out one night....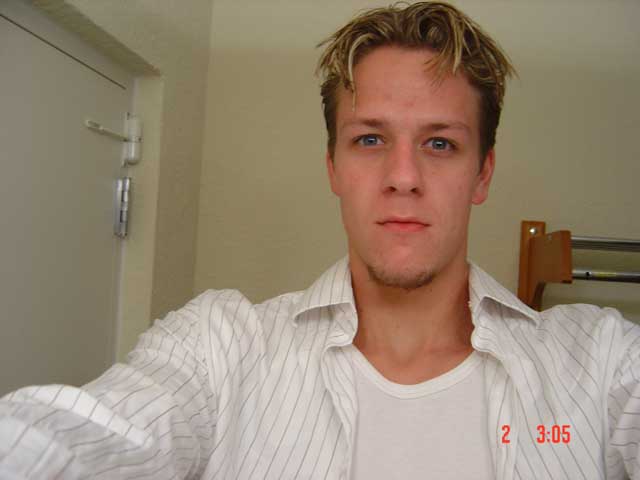 New hair... before I went to meet with Rose and her cousin at Bongo's a Cuban restaurant down town Miami at the American Airlines Arena...
Where a lot of sports activities are held... basketball, football and baseball I think
My continous facination of christmas lights... and then the building looks cool with the red lights...
It's the building the Teaser bar is located in.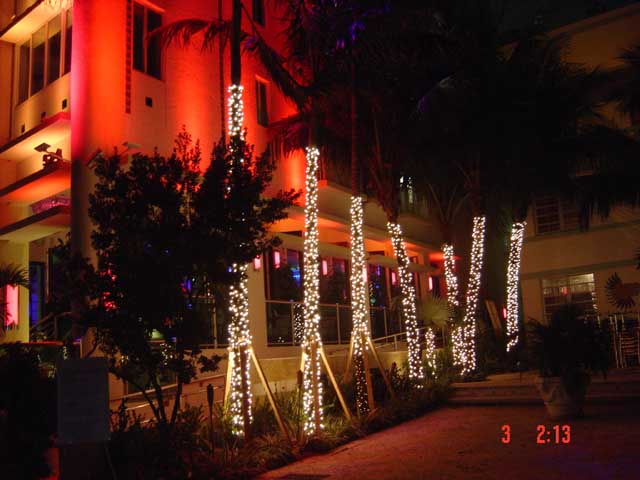 The boss making friends at Bongo's....
The Boss being very friendly with some woman who claimed to have been in Denmark.
More pictures of the boss... here with two girls who I still dont know the names off, and Rose... a Girl we met new years eve.
Some random church up in West Palm Beach...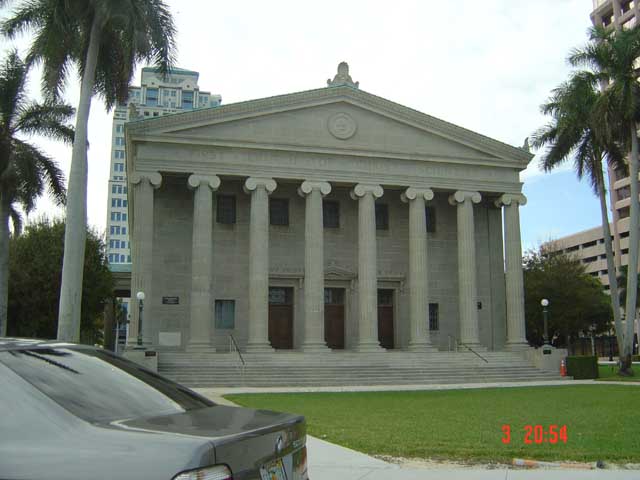 Some veteran cars we saw in West Palm Beach... I think one was a Ford T...
Rose's cousin who was driving said so anyways, and he is working at Ford so I guess he should know.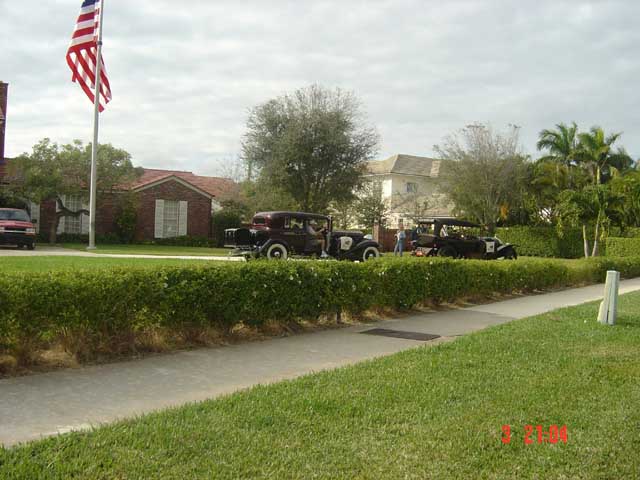 Well does it? This T-shirt has been able to apply quite a few smiles on tourist and Floridians alike
And besides Gayby blue suits me quite nice!!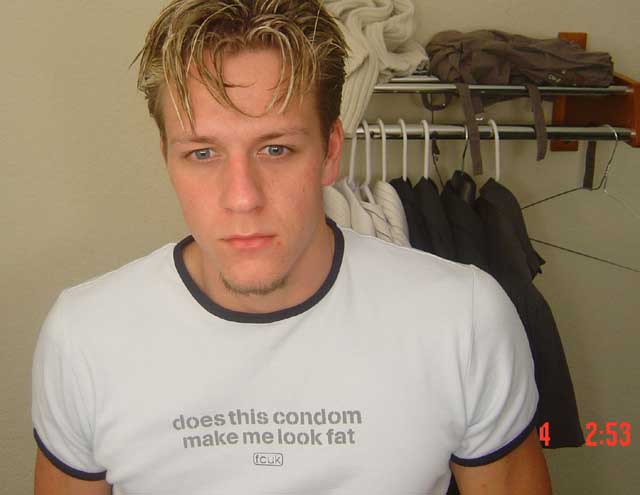 Time for a cap and some sun glasses....
Too much hassle with beach hair has lead to the purchase of a cap... I haven't worn a cap by my own will in like 8 years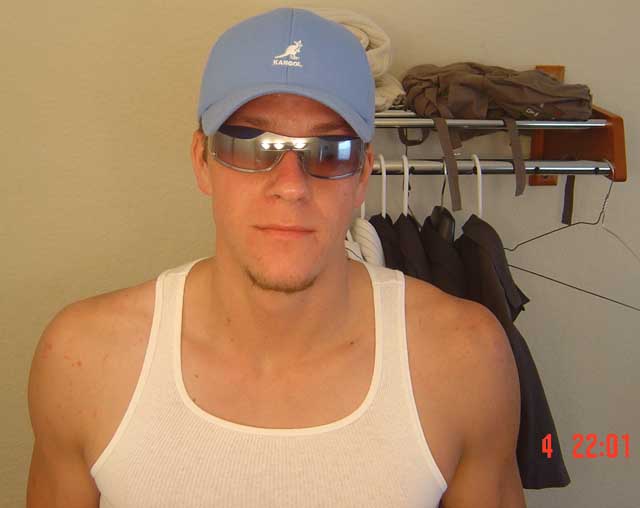 I know the picture sucks... stupid camera tried to focus on the stupid plant in front, and not the car that I wanted...
but you should be able to roughly see the size of those freaking rims
Strange design, weird colours and changing lights...
It's all in a days work for a Florida building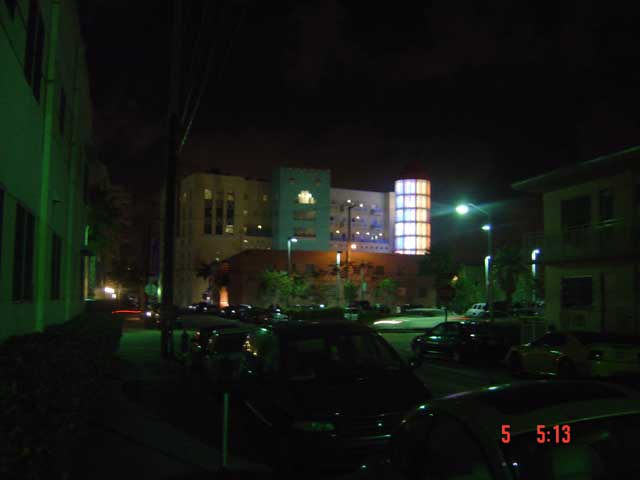 Neon lights and Christmas lights... its all the same over here.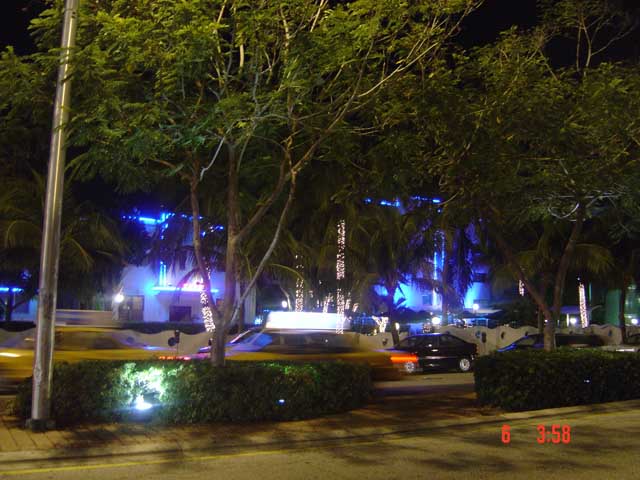 Now this was a nice place... Nikki is the name, and very well hidden pearl of a café in South beach.
My new nice friend Rose was kind enough to show it to me.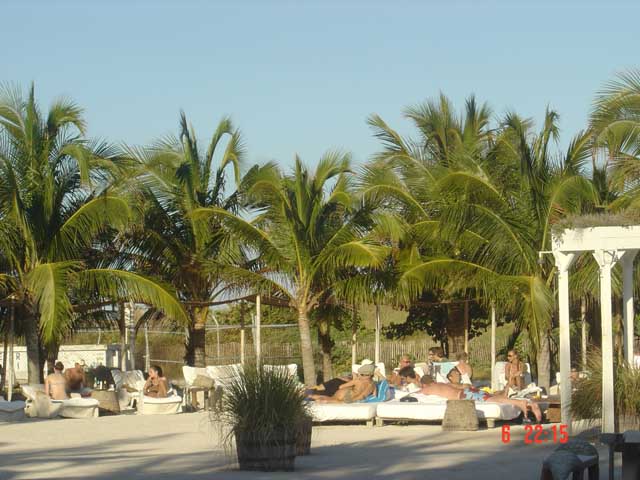 We sat in the shades... everything else woulda been too hot 8)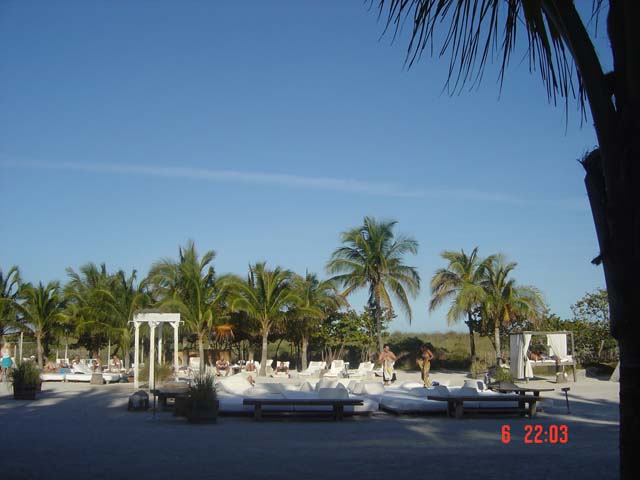 Check out the babe on the bed thingy in the right of the picture...
I just missed her standing up... she had a nice body 8) and her clothing including nothing else than 2 strings that made up a thong for her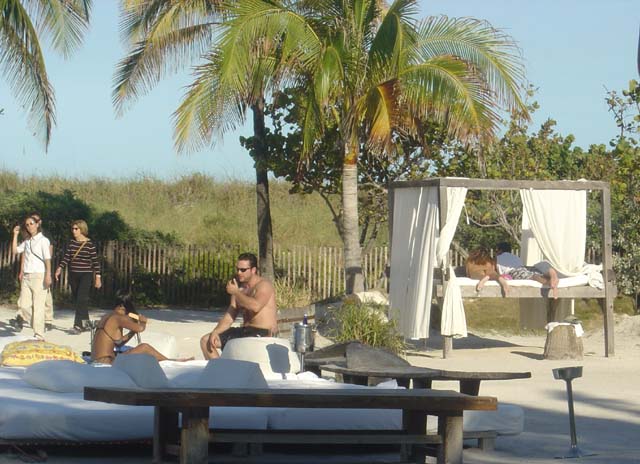 Yet another picture from café Nikkis... not sure that those indian huts were for...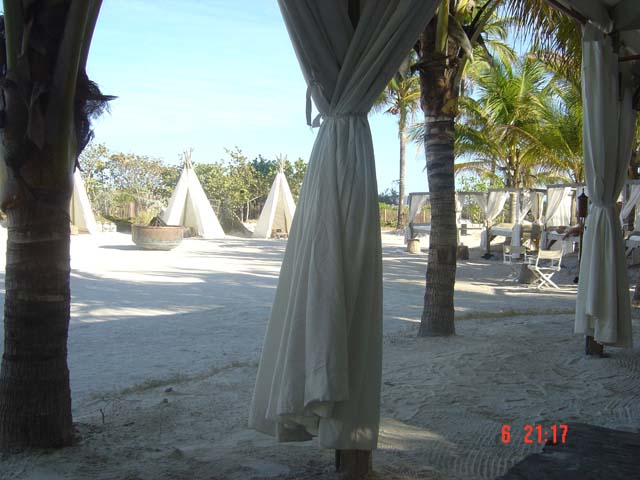 More nice weather shots from Nikki´s....
nice beds in the middle of the cafe where you could just hang, and get serviced 8)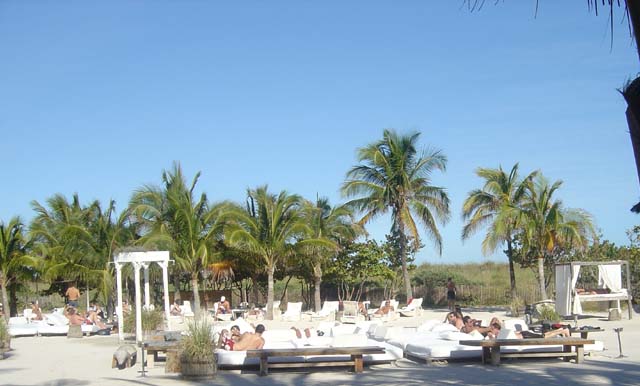 My dinner... looked alot better when I started on it...
See how healthy I am!!! Chicken roasted on a grill and nice fresh vegatables!!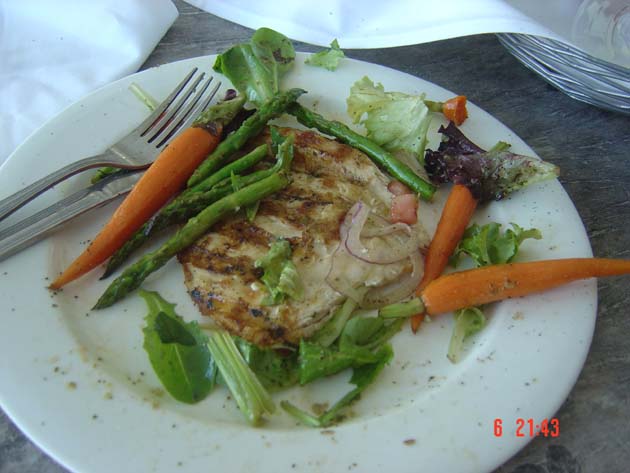 Crappy picture of a nice blue building down town Miami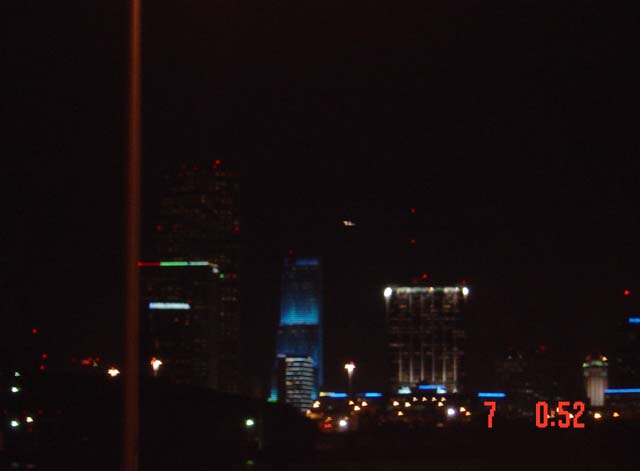 Some kind of bird convention on the wires in Palm Beach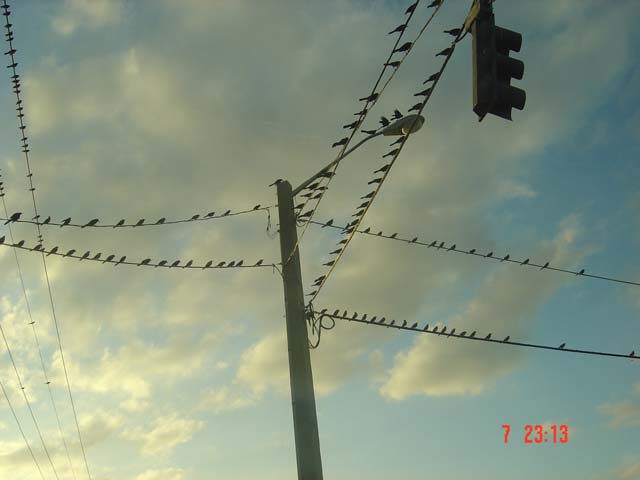 Crappy picture of a really really nice cheese cake I had on a gay bar....
and before you start telling yourself that oh yeah ofcourse he is going to gay bars over there as well, I would like to say something in my defense, hehe
Peter and I were out looking for a place to eat dinner Wednesday evening, and we pass a little place called Sunsset Grill.
I missed it cuz it was not very well lid up or anything, but Peter Gaydar obviously picks it up and says that he thinks it looks like a nice place. And I would honestly have to agree with him on this one, cuz it looked like one of those kinda hidden places that just serve super food. And it actually was really nice food we got there.
However it doesn't take me long to figure that it is a gay place. But one should never let one such thing go to waste though.
So I made sure that I got extra stuff on my second dessert ( the chocolate cake pictured a little further down).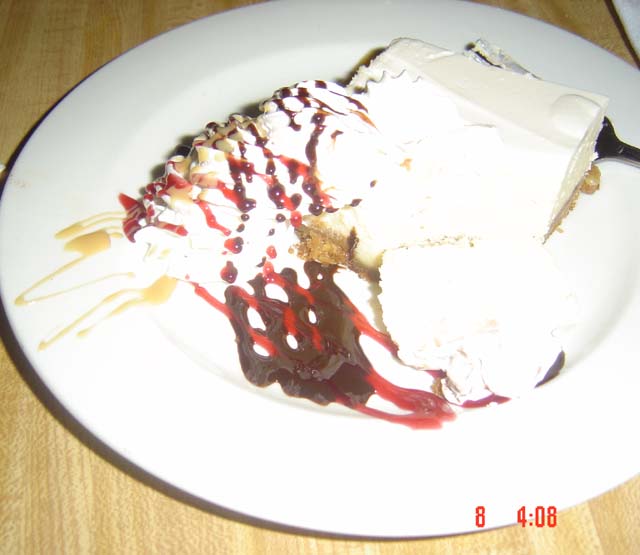 Peter's nice chocolate cake dessert.... note only one piece of really really nice chocolate on top of it.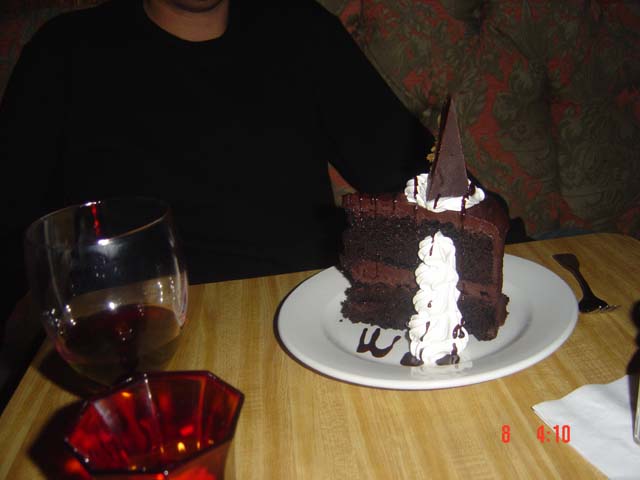 This is the inside of the place... they had some really cool paintings on the other wall.... but there were a few too many gays over that way for me to feel comfortable taking pictures in that direction.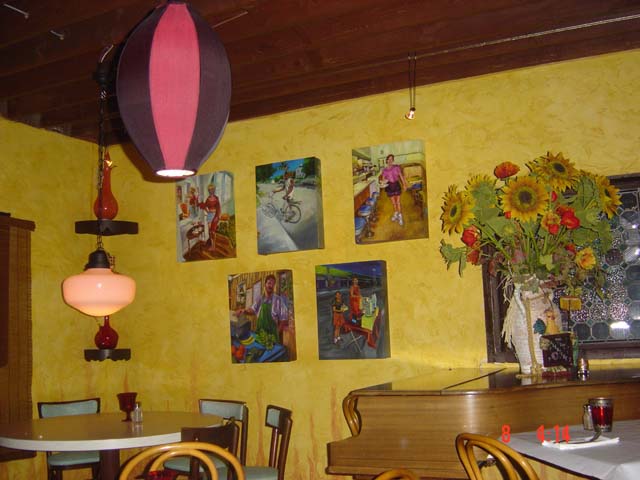 Yet another 22" rim... this time on a Ford Navigator... looks better IRL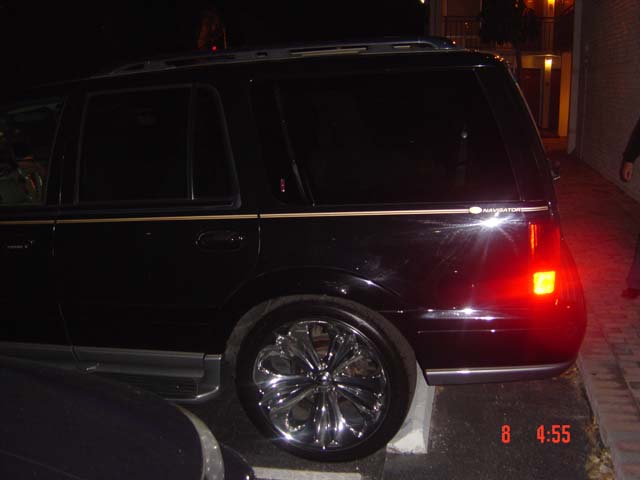 Behold my chocolate cake from the Sunset Grill....
Note the 3 pieces of super chocolate...
So even though we would have been served by a nice looking girl, this guy actually gave us super good food and he was a very good waiter....
ofcourse he was super gay and I used that to get the extra chocolate on my cake, hehe.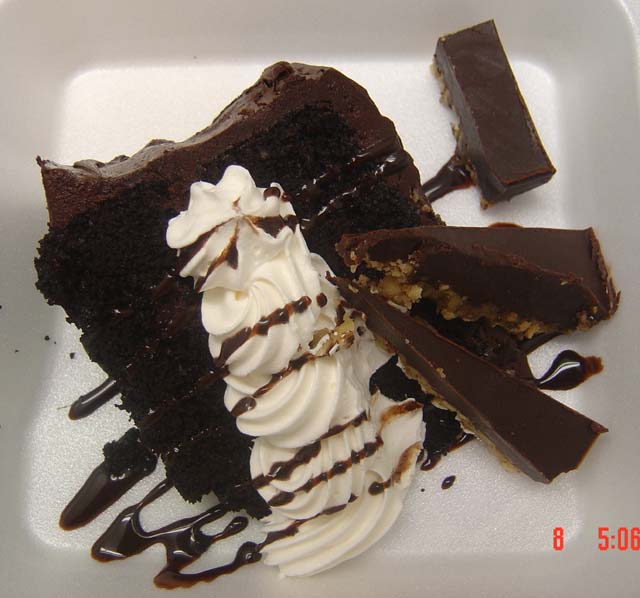 These here are pictures of our booth at the first show in West Palm Beach, at the Crowne Plaza Hotel.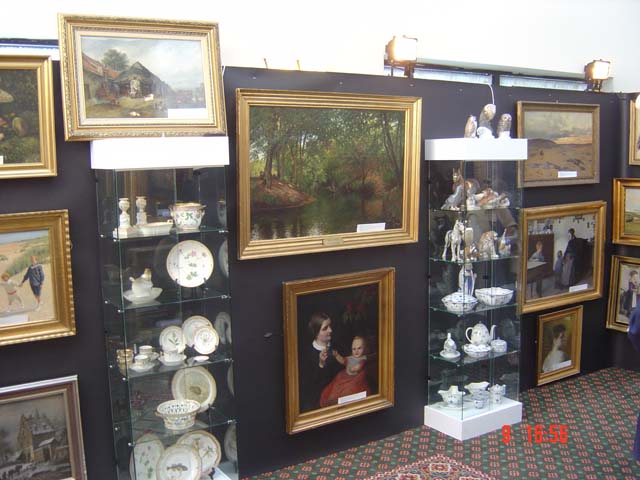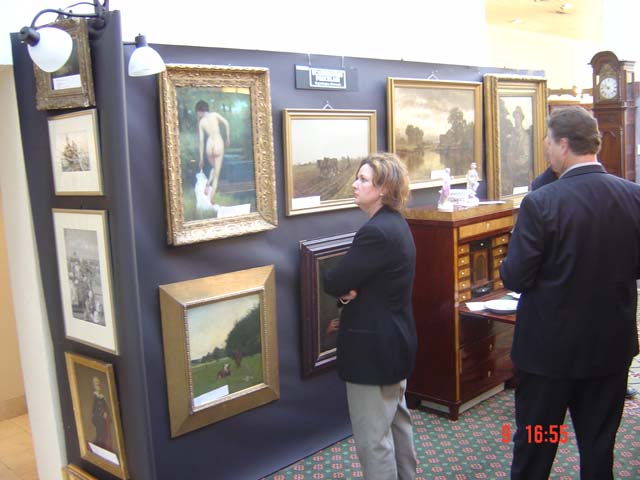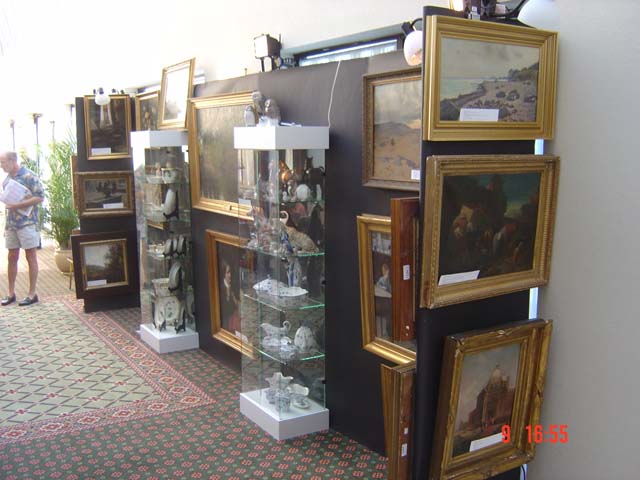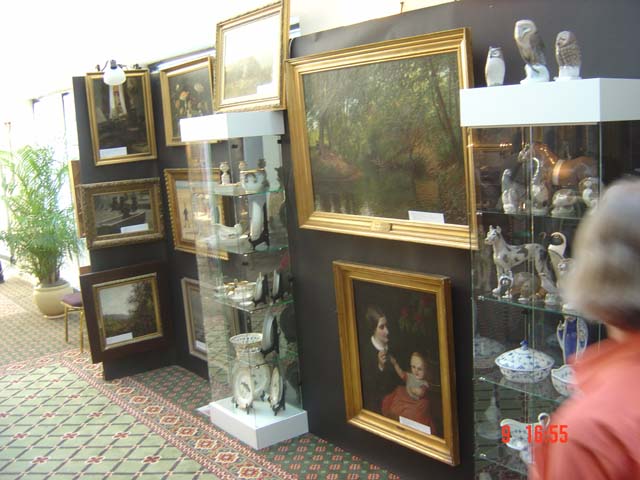 This would be a great name for a gay bar dont ya think?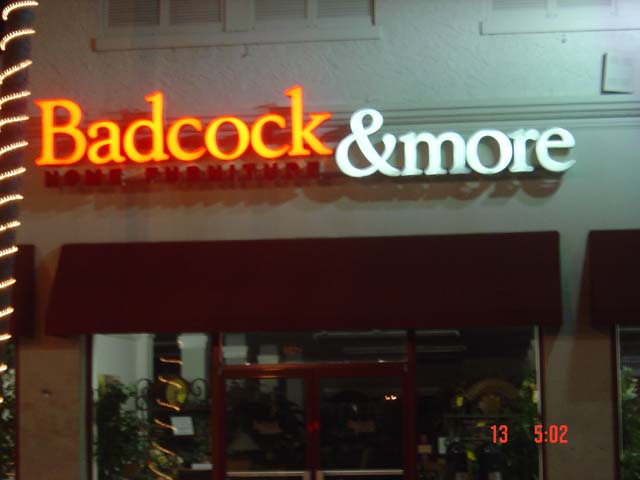 This place makes the sickest cheesecakes...
The cheesecake factory.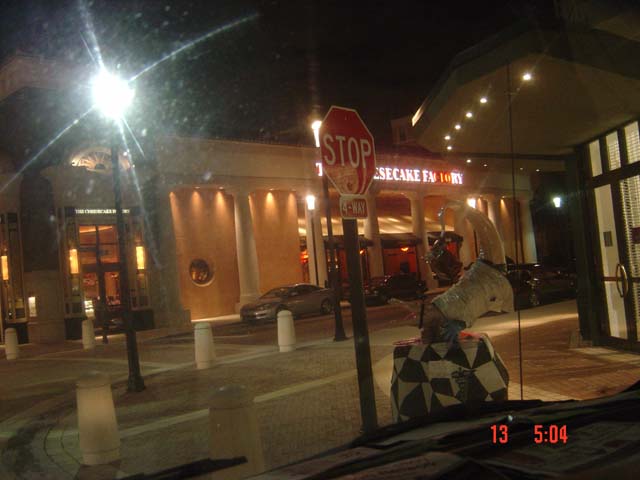 Down town Palm Beach.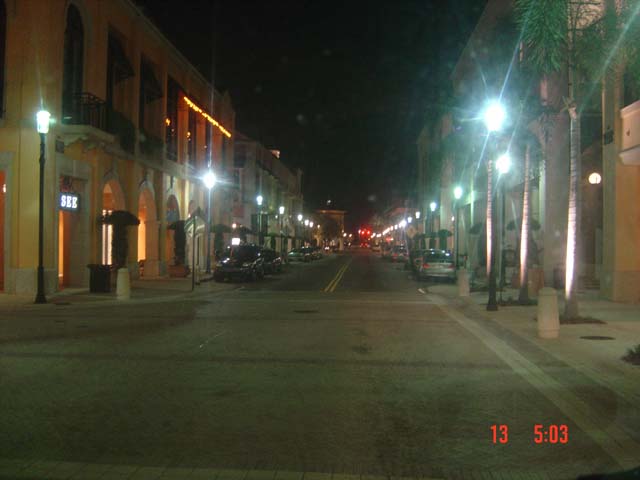 One of the clubs we went to.
This place had some sick ass chicks danicing on a stage, I really really wanted to take some pics of them but thought it would be a bit too sleezy.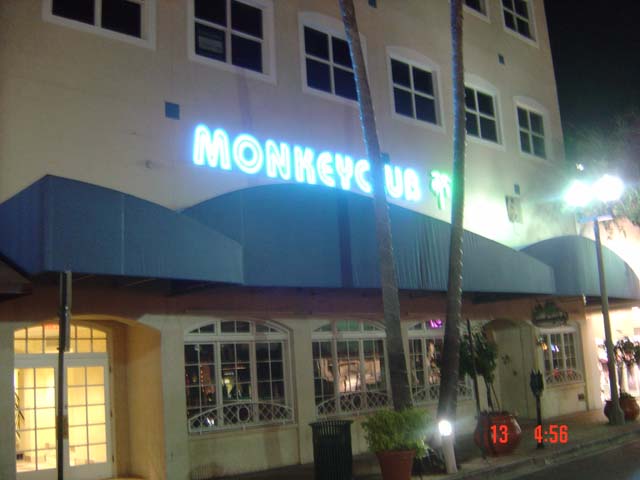 Inside the Monkeyclub with some friends from the first antique showl.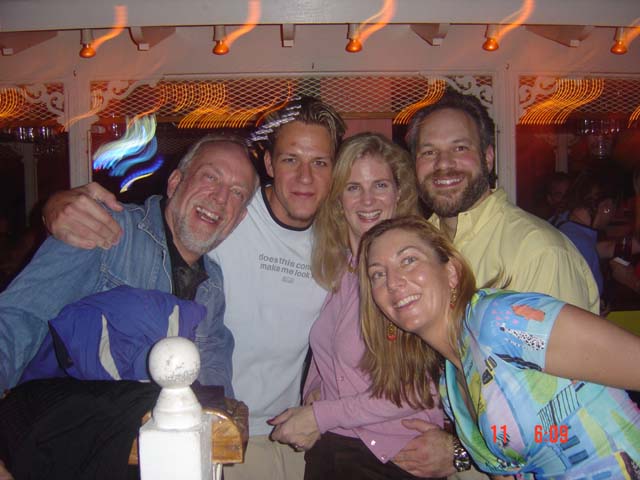 Some nice spot down town Palm Beach.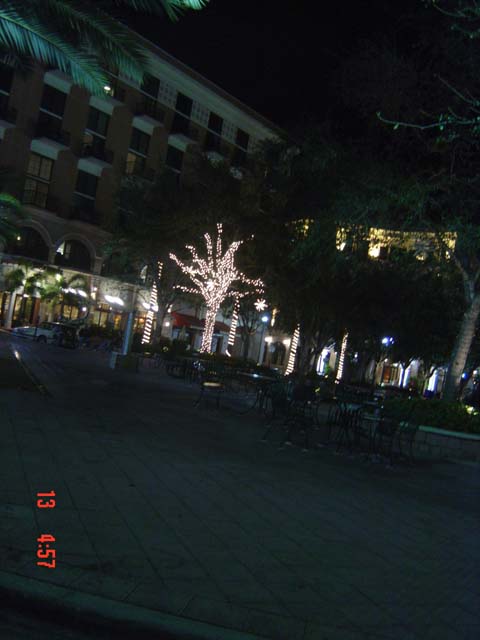 This building kinda reminds me of the Men in Black headquarters... looks cool none the less.
.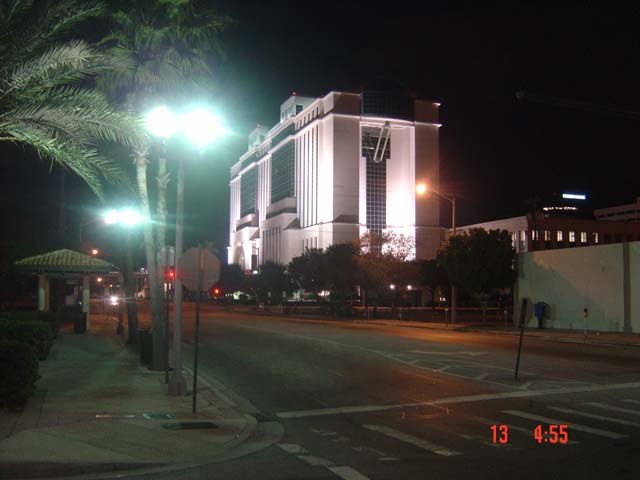 Andrew and Elisabeth, two of the exhibitors from the West Palm Beach show.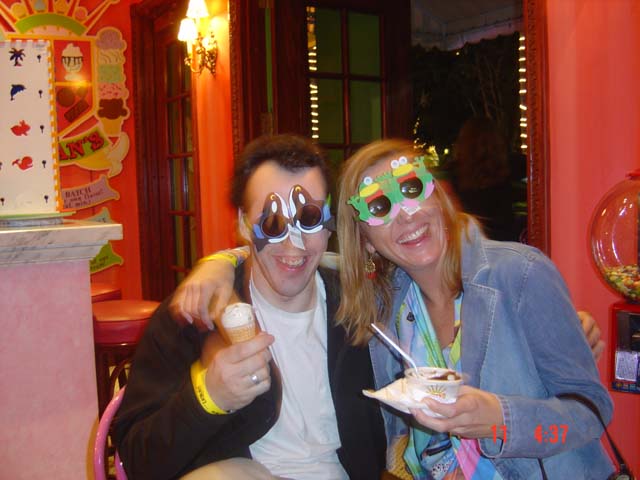 The everyday of a US highway.... gets kinda boring in the long run.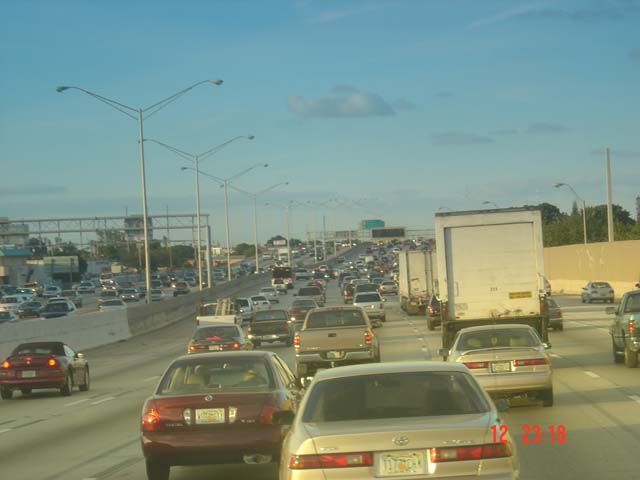 Nice car... like the Licens plate, and please note the 2 double exhausts please, this mofo had an engine indeed.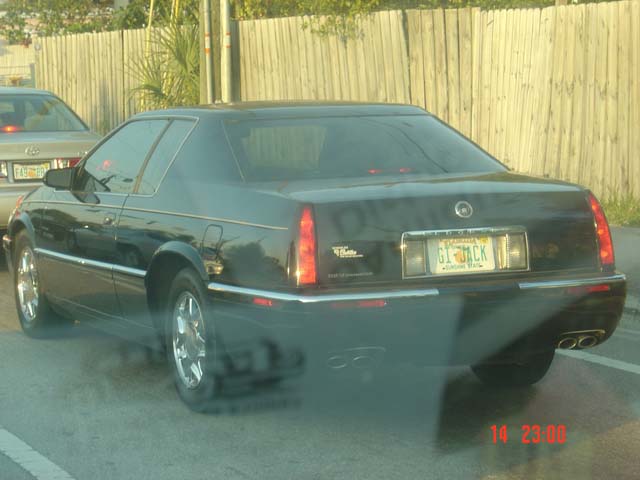 This pick up truck was some what lowered in its suspension, lol real "Brian" type driving it ofcourse.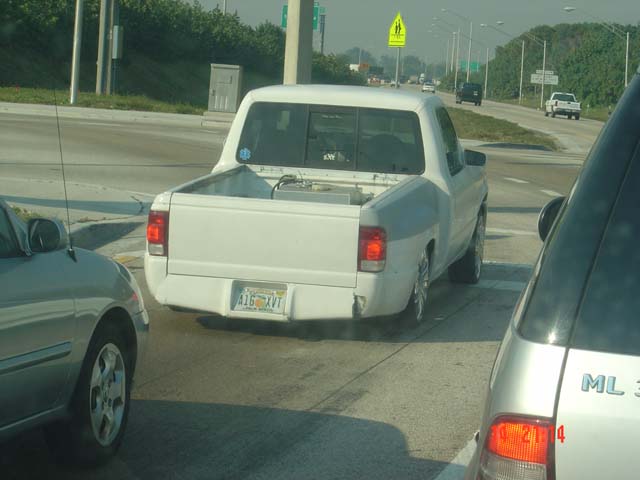 Now what is this....
if you take a close look just like 2/3 down... it says Aircraft and next to it $171.00.
You guessed it, my very first US speeding ticket 8(
Nice cop though, first of all she was really good looking and then she told me to watch out for the next speedtrap a little up the road 8).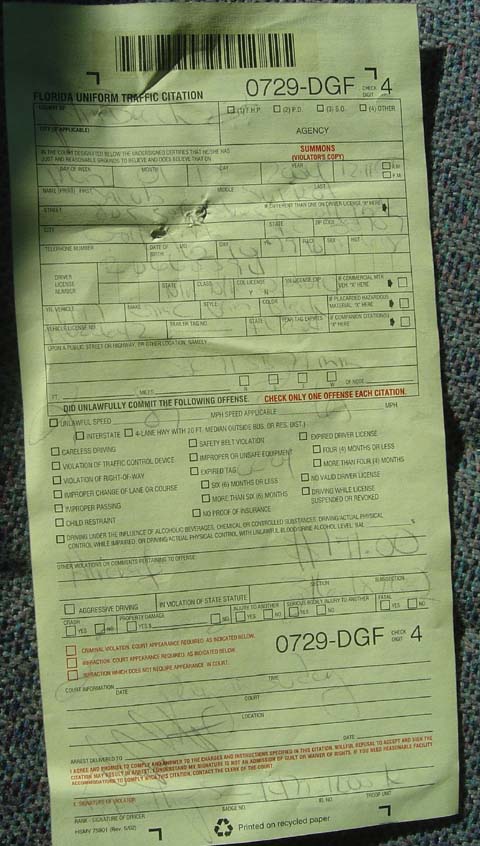 This is Delray Court house... the place where I was lucky enough to get to pay my ticket, hehe.
But before getting in I went through more security than an average International airport.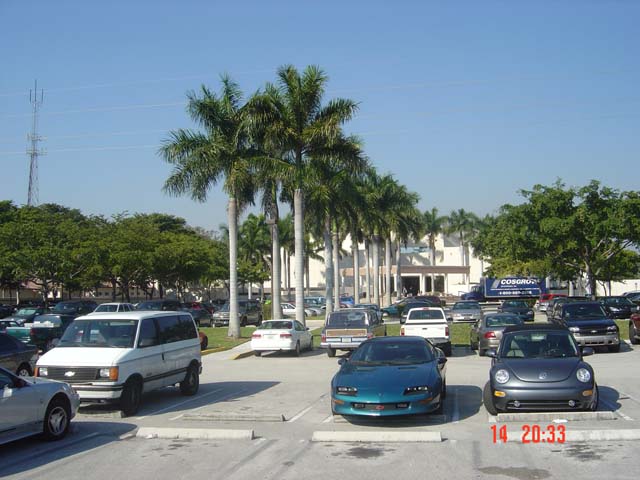 Alot of people liked this shirt for some reason... noone knows what it means but hey it might just be an excuse to get into a converstaion with me
I like it better than people asking me if I play Basket anyways.
I mean I don't run around asking short people if they are part of the seven stooges crew now do I?.
My friend Jules, who my sister hooked my up with in Tampa this was at the Rain Lounge... nice place a bit empty when we were there though, but then you just have your own party ofcourse.
Very fun guy, but he likes to party... and I mean PARTY, not a good combo with me having to do a 4 day antique show, lol.
Jules "dancing" with Evelyn I believe her name was. She had a kinda cute face, but you wont see much of that, lol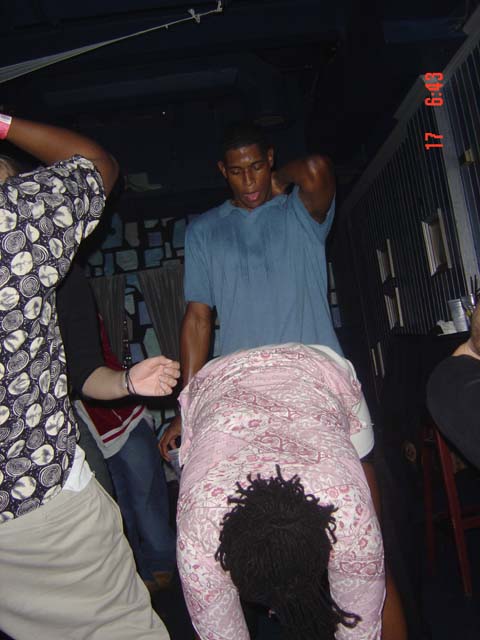 More Jules and Evelyn....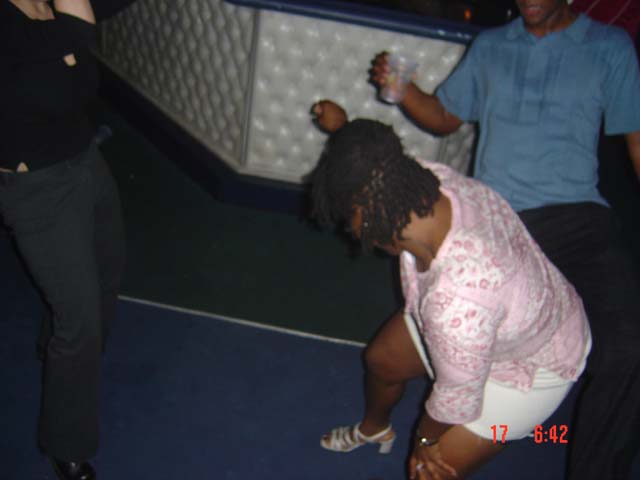 Jules kid bor, some girl I forgot the name on, Jules and E dancing fairly close, hehe.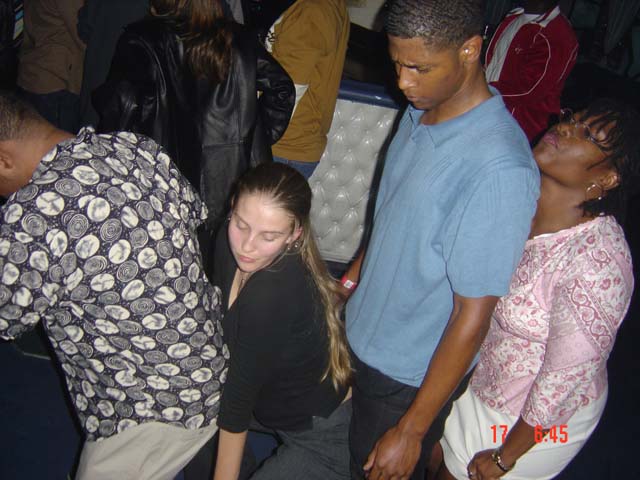 Moore Jules and E....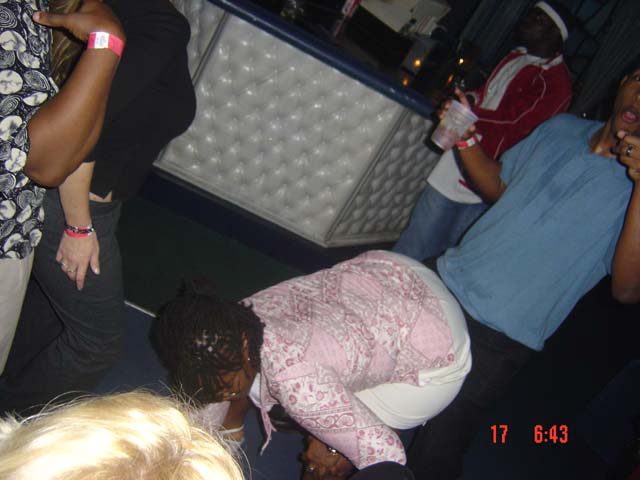 Not the best picture I am afraid, but it was hard to get one without them feeling too exposed, lol.
Check out the girl in the front... she had a seriously nice ass and a cute belly 8) a couple of her friends were kinda nice too.
But since I was getting up a few hours later I didnt feel like getting drunk, and there for I didnt get myself to go over and talk to them, hehe.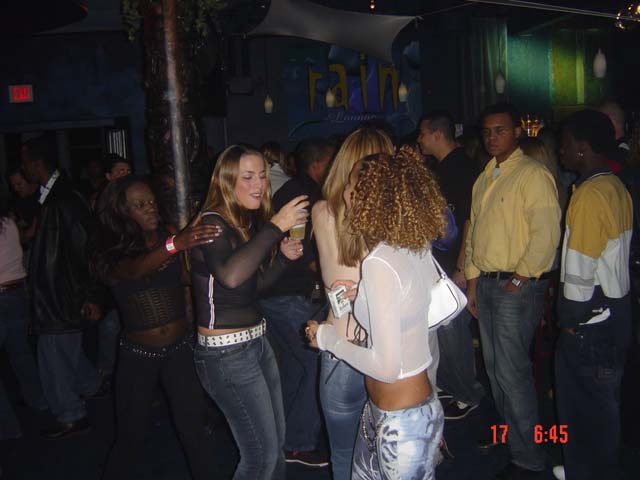 My booth at the Great Tampa Bay andtique show. I had a shit load of stuff there and it took me almost 7 hours to pack it back down again since I didnt get all that much sold 8(
Got of compliments, and most likely had the best booth of that show, but the crowd wasnt that well educated as some of the exhibitors put it, hehe.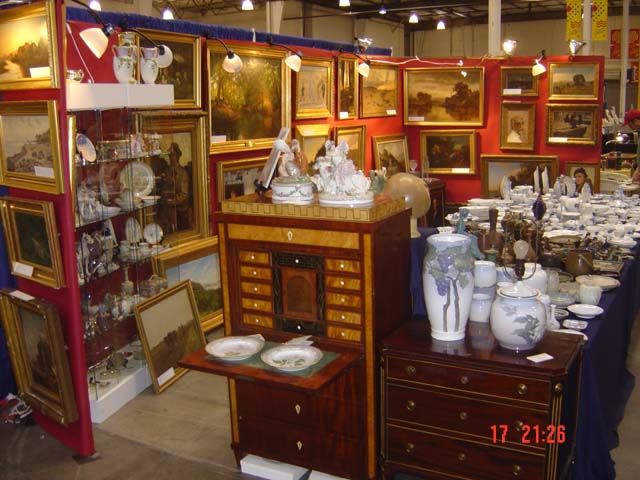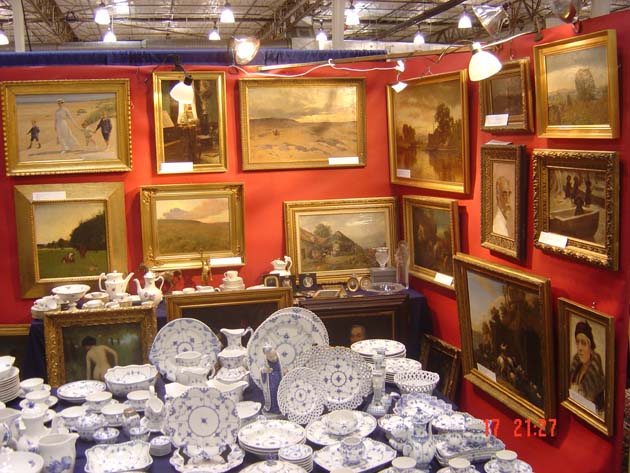 My drive from St Petersburg to Sarasota and then on to Miami after the Great Tampa Bay Antique show.
Alot of very long bridges connect Islands and Peninsulas in the Tampa Bay area...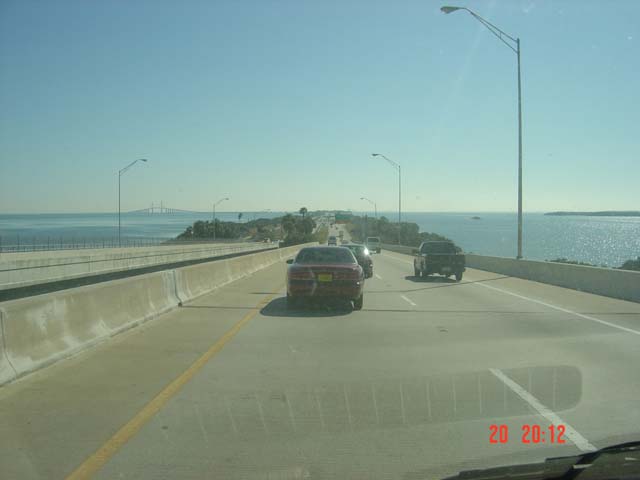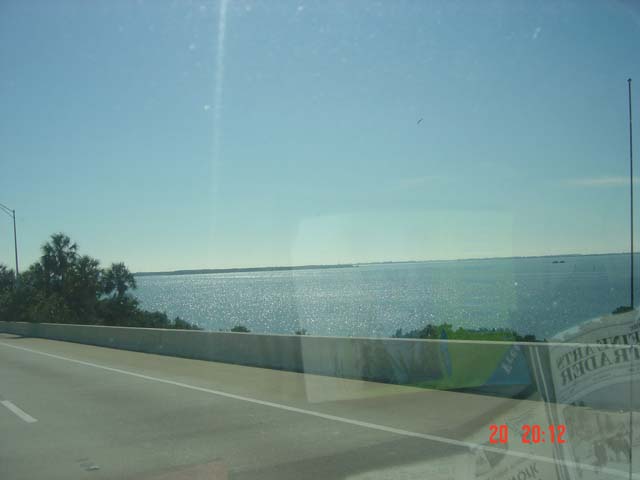 Lazy barstards.... One hummer pulling the other, while the two drivers are sitting in one hummer chatting, hehe.
Guess it saves gaz as well.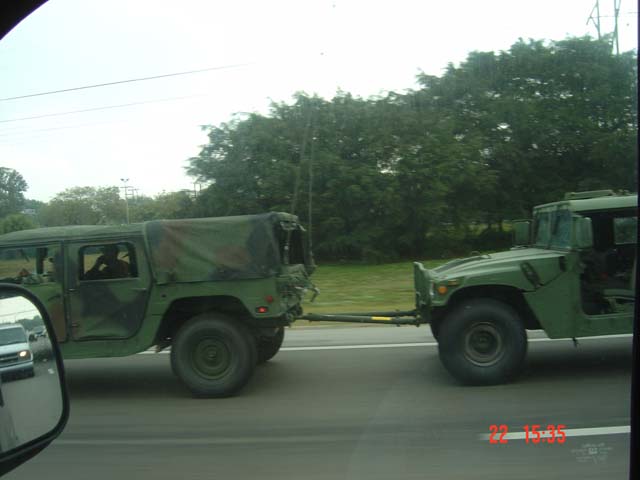 My booth at the Radisson Miami show.
I got this booth through a nice guy called Andrew that I met at the Tampa show the weak before.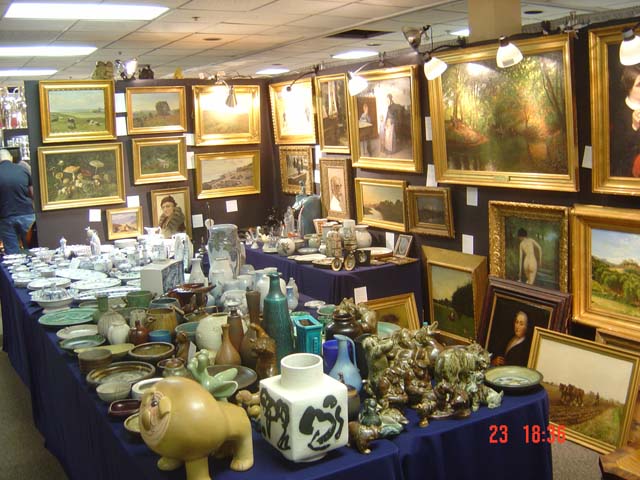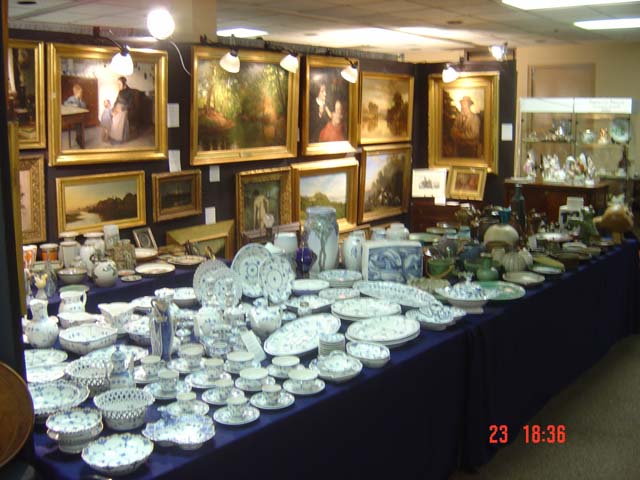 I was out with Louis and Robert two guys that hang out with Andrew ( mentioned above)...
We enjoyed a nice dinner at a tiny Italian place downtown Coral Gables ( a part of Miami) a restaurant that Louis and Robert suspect of being run by the mafia, hehe...
Those guys are not all well in their heads... allthough I do agree that the waiters comment to Robert when he said he had a nice suit on was "It fell off the back of a truck" that kinda remark could suggest some foul play, but hey what do I know, I am just a turist.
None the less.... this was a car I saw that evening.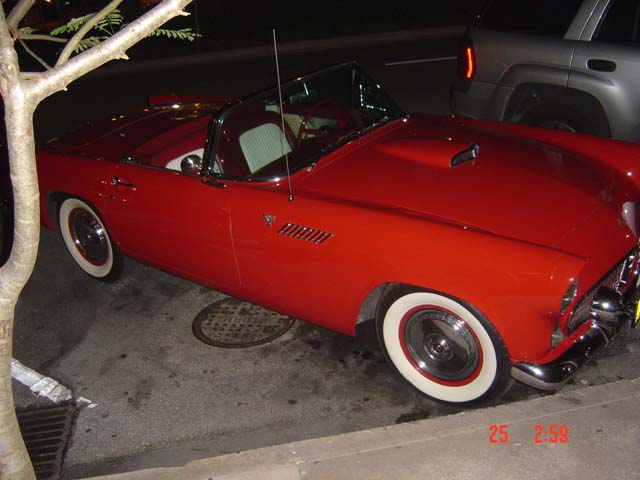 Try this sandwich on for size....
This was a rought bastard to chew down.
Though the meat was very nice... it was alsy very dry since it had nothing but a few slizes of lettuce, two slices of toast and 5 billion slices of turkey in it.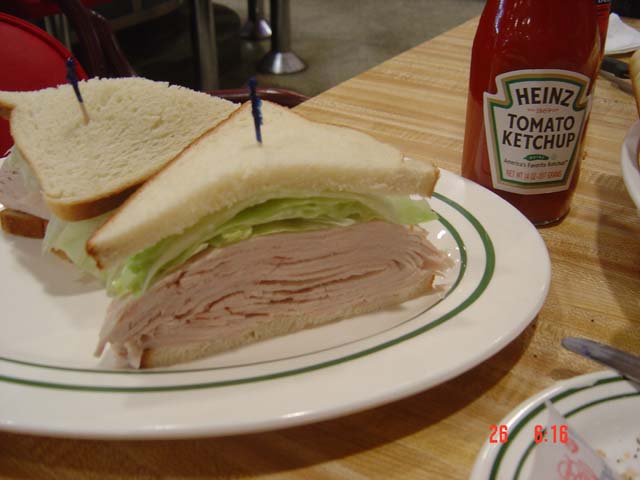 I enjoy Miami for its nice art deco and modern / contemperary styles and designs...
Takes this building ie... isn't that some nice shit?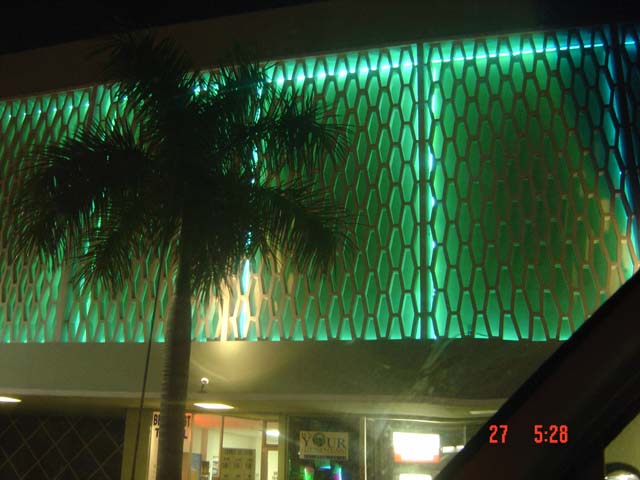 Though this neon in some ways still represent the "Miamian" colours....
I don't really think it fits in in the Art Deco style... so its s good thing it was quite abit north of the Art Deco district 8)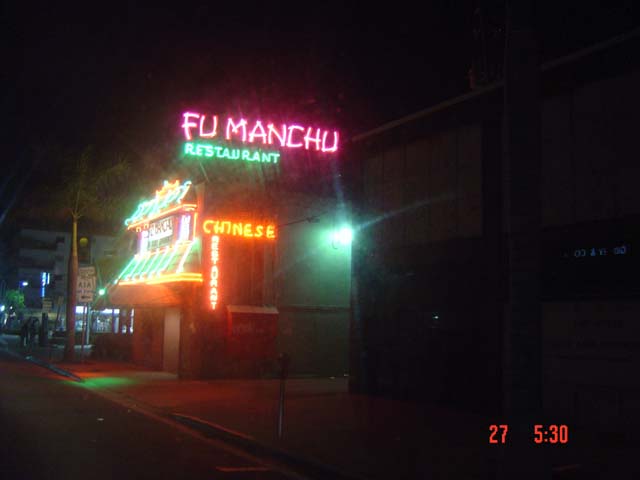 This is my backyard at the moment. I live at a cheap hotel a bit north of South beach...
45$ a night and 2 outta 7 days are free... no remote though in the rooms... sucks rats ass if you ask me 8(
Don't spend much time there other than when Iam sleeping so I guess its ok.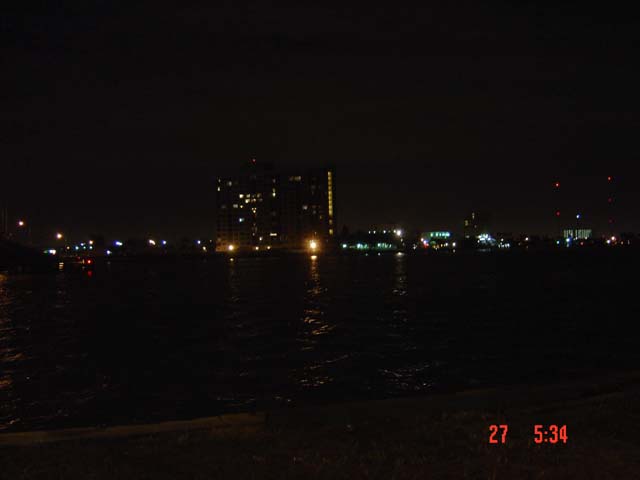 When I am not doing shows a make a little extra on the side by doing topless waitressing at this bar.
Either that, or it was just a place I past on the way and thought it would be worth wasting a picture on.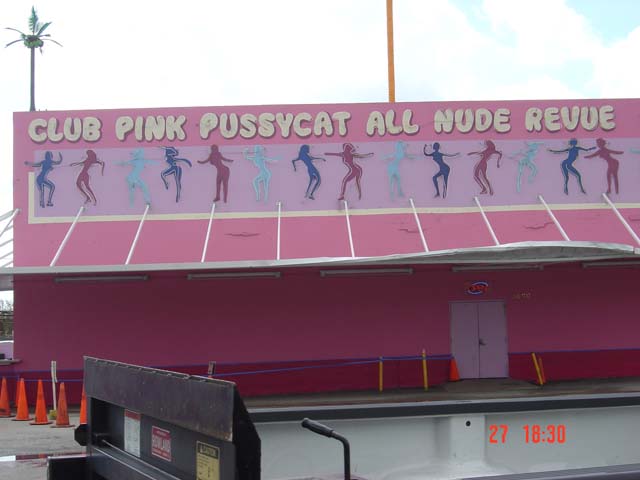 Yet another nice building at the Beach... the other side of this hotel has the view of the Atlantic ocean... really nice place.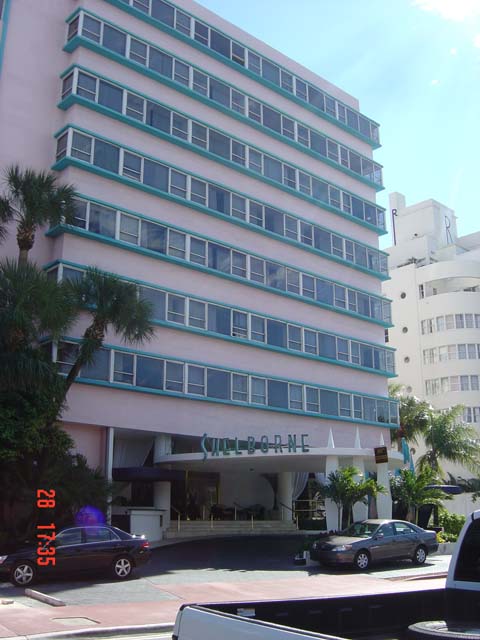 I was inside this place.... it is a really really cool place. Louis told me that I would fit right in, and I was like yeah right what do you know about that.
Since I kinda feel like I don't fit in anywhere over here...
But Louis was right, this is a really cool down to earth place... maybe a tad on the smart ass side, but really really nice bar, pool and restaurant at this hotel.
And there was a lot of good looking ladies there... A LOT! I will be going back for sure. Most likely when Tanja is here...
So I dont have to go on my own/ with guys/ gays, hehe.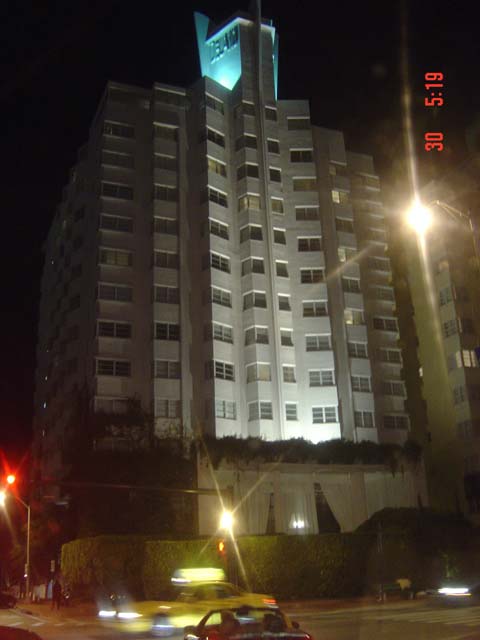 This here is my booth at the Original Miami Beach show.
It is suppose to be the biggest and best show of its kind in the US... which in effect pretty much means in the entire world.
We are talking about a place where there are like 3 shows a weekend for 3 months... and this is the mother of all shows around here.
I must say I have been impressed by the sheer size of this place... more than 800 dealers with high quality merchandise.
I look forward to selling abit more than I have been able to so far, but I still have 3 days left of this 5 day show so I am not giving up hope yet.